Plasma is the most effective and innovative recirculation alternative on the market. Discover all its benefits
In the world of cooking, extraction options have always focused on traditional extraction with an external outlet. As an alternative, there is recirculation. A purification system that does not need to expel the fumes to the outside. It simply absorbs them and returns them home properly filtered.
Frecan Plasma filters have been developed to be installed in any hood. Its purification process is more complex than
that of traditional recirculation, for this reason, it is also the only filter that removes fine particles.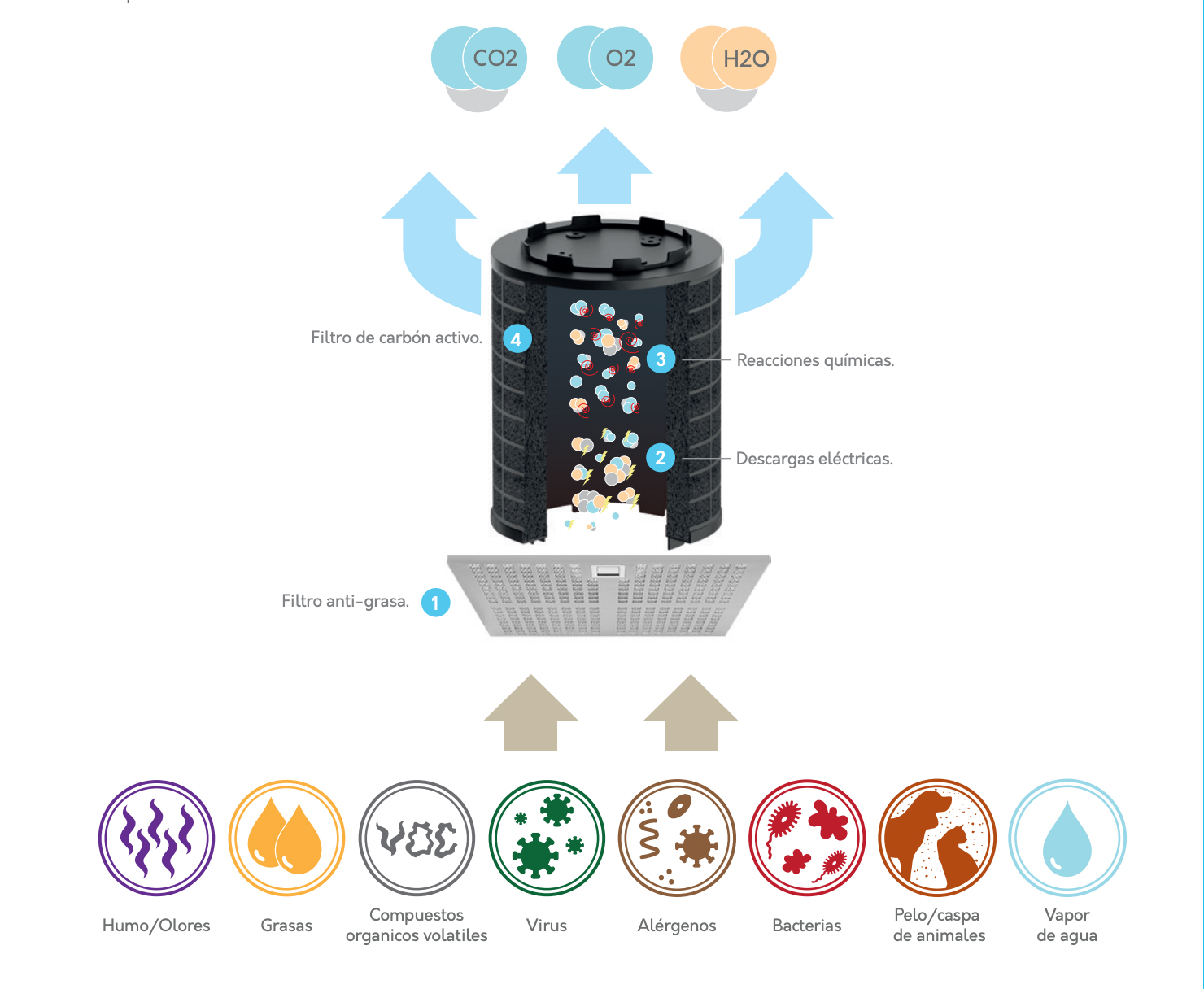 1. ANTI-GREASE FILTER
When the hood is activated, the airflow is pushed into the grease filter, which is responsible for retaining grease and other dense particles.
2. ELECTRIC DISCHARGE
When the air reaches the Plasma filter, an internal sensor activates a series of electrical discharges that modify the molecular structure of the harmful particles.
3. CHEMICAL REACTIONS
Next, chemical reactions are triggered that break down odour molecules, pollen, etc. and they eliminate them permanently.
4. ACTIVE CARBON FILTER
Finally, the air is filtered again through the activated carbon, releasing only oxygen, CO2 and humidity
What are the advantages of Frecan's Plasma?
The advantages of our recirculation system for kitchens with or without exit to the outside are the following:

The Frecan Plasma Filter helps to keep the environment clean of harmful particles (Parasites, mites, tobacco smoke, pollen…) that mainly affect children and animals.
1. NEGATIVE IONIZATION SOURCE
The waterfalls, the sea, etc. They are a source of negative ions that contribute positively to our body, improving its functioning. Plasma acts in a similar way since it also releases negative ions, helping to improve our body as well.
* Improves quality of life.
* It favors our body.
2. REMOVES 98% OF PARTICLES
Smells, viruses, pollen, allergens, VOC… Plasma does not release ozone during the process. (Confirmed by VDE and
IUTA certification)
* Total air purification.
* Elimination of pathogens and other harmful particles.
3. LOW CONSUMPTION
Low energy consumption without the need for filter cleaning or renewal.
* Cost savings.
* Minimal maintenance. (Self-cleaning function)
4. EASY INSTALLATION
Adaptable to all types of hoods.
* Easy to use and install.
5. THE MOST DURABLE RECIRCULATION SYSTEM
Up to 15 years of operation without the need for replacement
* No expense for filter replacement.
* Long useful life.
6. FILTERS THE FINE PARTICLES
It is the only filter capable of purifying fine particles.
* Guarantees maximum air filtration.
7. EASY MAINTENANCE
Active carbon regenerates itself at the end of the Plasma electrical process.
It is always kept clean and free of contaminants.
* It does not require cleaning.
* No maintenance costs.
8. 14% REDUCTION OF RUMOROSITY
It acts as a silencer, reducing up to 14% of the noise produced. In addition, it allows to eliminate or simplify the ducts in the installation
* Silent home.
* Simple installation.
FRECAN AIR
Under the new brand specialized in recirculation systems, FrecanAir, we also have 3 more air filtration systems for the kitchen.
Recirculation systems go beyond being a suction hood. They are air purification systems that help improve home comfort and, therefore, quality of life. A fundamental element in taking care of our
health.
Download the new catalog and discover how recirculation systems can add differentiating value to your projects and take care of the health and pocket of the user with the utmost respect for the environment.
Find out more about recirculation
Un problema en el que nos podemos encontrar es que no tengamos una salida de humos para poner una campana de extracción
¿Qué diferencia hay entre una campana extractora de recirculación y una convencional?