Ceiling light or hood?
Choose it all,
choose the new Bright.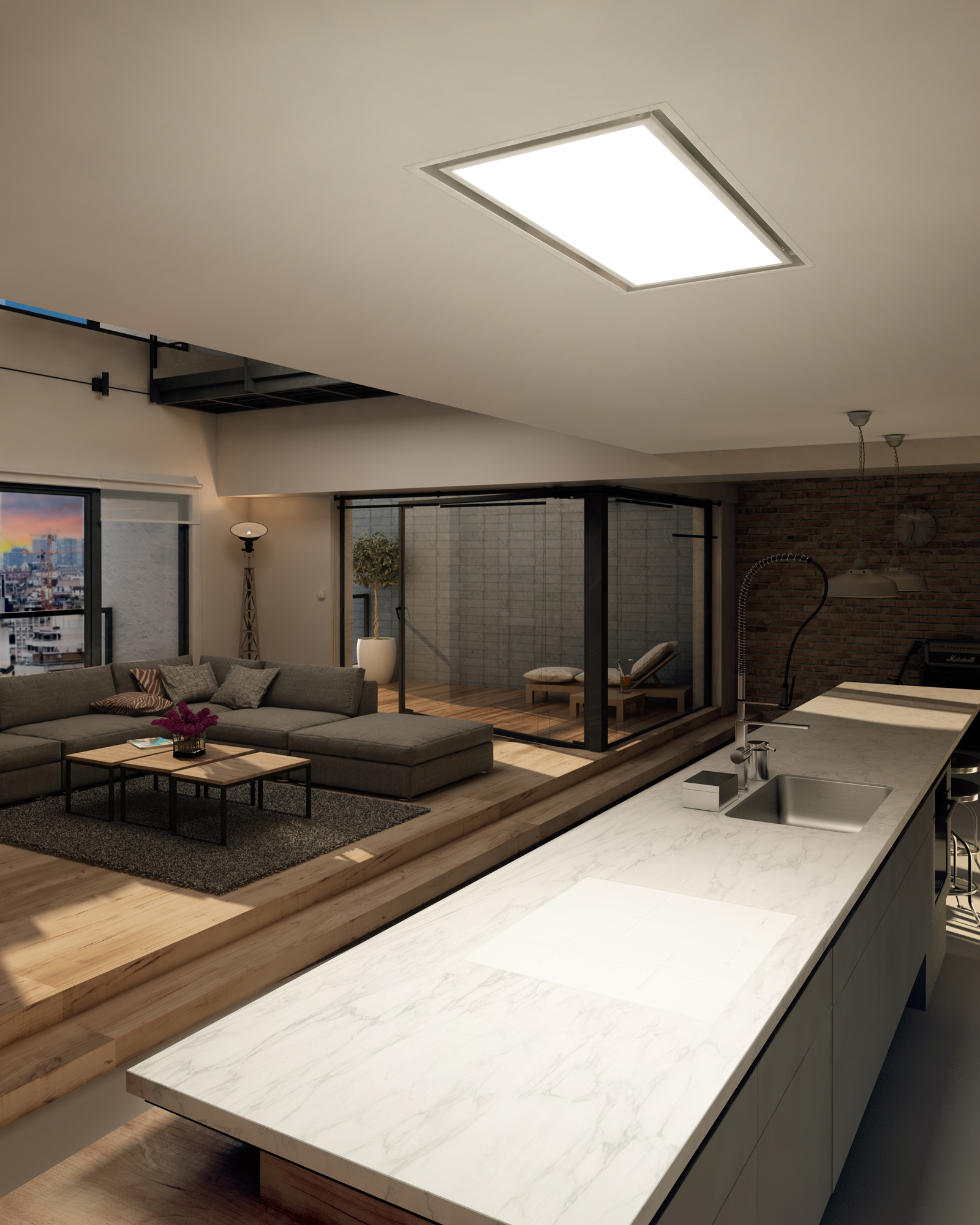 At Frecan, we have opted to grow it's range of ceiling lamp hoods. We have added to the paradigm range and Sense model, the new Bright ceiling hood model. A model of total lighting and aspiration in a single model.
The separate operation of aspiration and lighting, allows this model to switch the lighting with the kitchen switches as a separate light panel.
Technical information
*360º rotary fan. The 360° rotary motor allows the extraction ducts to be installed in any direction, permitting ease of installation even in wall kitchens, where the ceiling hood is installed closer to the wall.
This rotary system puts an end to problems and obstacles that are often present in suspended ceilings.
*Easy-Fix.Many of our ceiling hoods models have mounting clips, so they can be installed easily, quickly and effortlessly Just connect the motor to the ducting, raise the hood by pushing it until you hear a few "clicks" which confirm the hood is suspended, then tighten the tensioning screws to firmly fix and flush-mount the hood to the suspended ceiling.
*Minimum height of false ceiling 200 mm (internal motors). With the internally installed motor option, we have a false ceiling of 292mm. If we separate it, it can be installed in false ceilings between 190 and 260 mm depending on the type of installation.
*Perimetral aspiration, For those who really believe that design is not incompatible with efficiency. An alternative to traditional aspiration is based on the Venturi effect.
*Deferred stop, LastTime. Flashing light that indicates when filters need cleaning in case aspiration hoods, and the replacement of charcoal filters in case of recirculation hoods.
*Includes remote control A wide variety of FRECAN hoods (especially ceiling and built in hoods) are equipped with a remote control.
Discover more hoods
You still do not know our new catalogue of extractions and cooking systems?